Web Development Services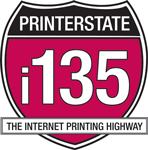 PRINTERSTATE i135, our internet printing highway, enables organizations with multiple offices or business units to save time and money by ordering materials on-line.
Letterhead, business cards and other marketing materials are manufactured maintaining consistent quality graphics standards for all locations. Each customized site offers a sleek ordering process that provides an immediate proof of the print file, tracking of packages in transit and cXML integration with clients' enterprise software for electronic purchase orders and invoicing.
Fortune 500 corporations, university systems and insurance networks are saving thousands of dollars with this system.
To make an appointment for a demonstration, contact us at 860-583-1906 or sales@aprints.com.